Our company has experienced much higher than anticipated shipping costs which is affecting our entire business. We are spending the next week or 2 restructuring our business and trying to make shipping rates better. If you have already ordered one of our greenhouses and are waiting on part or all of it, please know we are working on the logistics now and will let you know as soon as it has shipped. We are not taking new phone or Internet orders right now until we get the shipping costs under control and any current orders out first.
---
Thursday, July 23rd, 2015
hours

We will be in the production shop and shipping off several more orders today. For this reason our inside office will be closed today and tomorrow.
---
Monday, July 6th, 2015
hours

Due to a surgical operation taking place with my wife, our office will be closed on Tuesday & Wednesday of this week while I am at the hospital.
Thank you.
(UPDATE 7-10-15).... I like to keep people updated on our status. My wife was just released this morning. She had to have multiple surgeries and is doing better now. Thank you to those of you who sent in your well wishes. It was very much appreciated. I know we have been running way behind on orders already and this did not help our schedule at all but thank you for being kind and understanding of the situation. Now I am back and able to continue working 7 days a week until we get caught up on current orders.
---
Monday, June 22nd, 2015
Shipments & Orders

We are still working overtime to catch up from all of the spring orders. If you are wanting to order a new greenhouse please keep in ming it may take 8-12 weeks to get it to you. We are shipping out in the order received.
Thank you.
---
Tuesday, April 28th, 2015
Hours

Our office will be closed this week. We are backed up on orders and i will be fabricating in the shop for 12 hours a day. I cant hear the phone ringing with the machines running and simply do not have the time to spend all day on the phone. Thanks for understanding and please send an email if you need something. I will try and check those at night. We have about 40 orders to fill right now. We should be shipping about 7-10 orders out each week. I do not have exact dates for each shipment yet but we will be calling each customer as they hit the FedEx truck to let them know they are on the way. If you have ordered one please know we are working as fast as we can. Thank you.
---
Wednesday, March 19th, 2015
Ocean Springs, Mississippi

Michael is just feet from the Gulf coast shoreline. He needed a 24' x 60' greenhouse that could withstand hurricane force winds to grow his young palm trees inside. This is also what the frame looks like without the plastic. I wanted to post these because we get a lot of questions about how the frames are made. We use 14 gauge galvanized steel spaced on 46" centers. They are extremely strong and can withstand heavy snow loads as well as the high winds.
Notice he used a weed blocking fabric on the bottom and then added small gravel on top. That is a great way to do it and what I personally recommend to anyone who asks.
Great job on the construction Michael !!!
---
Monday, March 2nd, 2015
Seattle Washington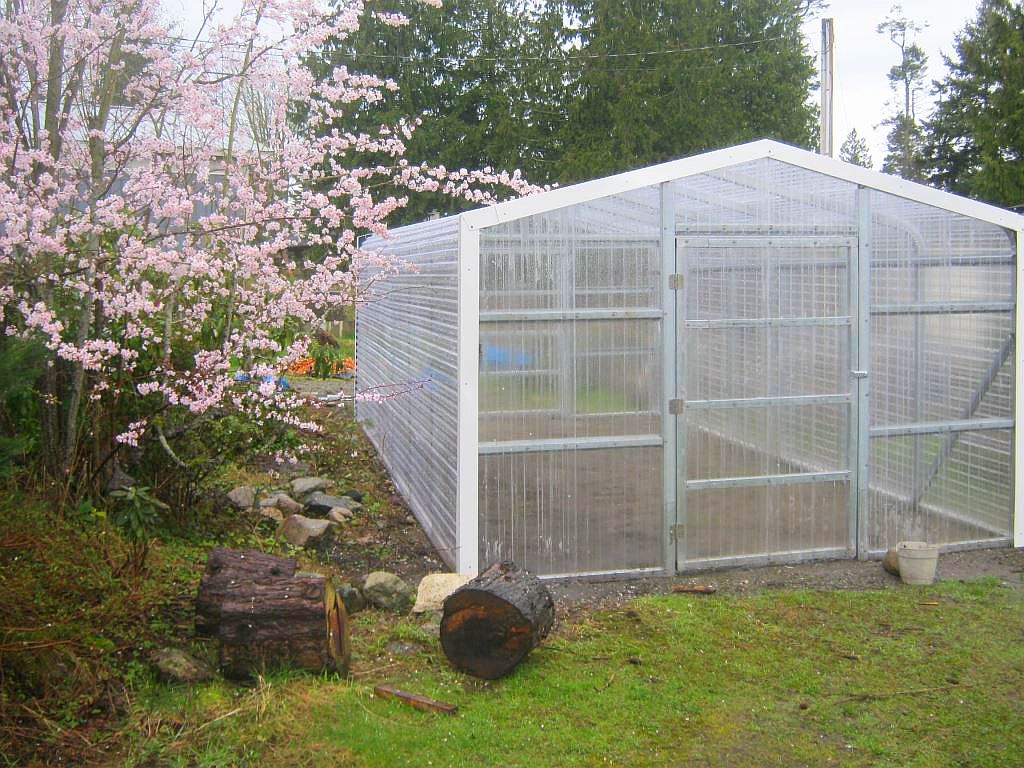 Steve, our new friend in Washington just finished his new 12' x 24' Greenhouse kit. Looks great Steve and it was a pleasure helping you ! We hope you get many years of enjoyment from it.
(several of our customers have asked if his plastic is clear or opaque. Actually it is clear. I believe this photo was taken either after a rain or with lots of morning dew on it.)
---
Monday, November 17th, 2014
Texas

Had a great time making new friends and meeting such a nice family down in south Texas this week. Joe & Crystal do a lot of hobby farming on their 180 acres and wanted a new 18' x 20' x 8' greenhouse to grow all winter long. This model also has the upgraded plastic which is better for hotter climates. They also added a couple of windows on the front..
Notice the steel end walls and steel framed door. All of our new kits are shipped out like this unless you request the wooden end walls.
We hope you get many years of enjoyment from it. Thanks again for the hospitality. It was such a pleasure getting to know you.
---
Friday, November 14th, 2014
South Texas

We just finished this great 12 x 24 greenhouse for our new friend Sheriff's Officer Michael down in south Texas. He plans on using this one for Aquaponics. That's what the big fish containment pond is in the back of the greenhouse. This Greenhouse also has the upgraded plastic which is perfect for hotter climates. Thanks again Michael. It was a real pleasure meeting you and your kids. Hope you and the family get many years of enjoyment from it.
---
Sunday, November 9th, 2014
Illinois

We are currently working on a huge 24' x 80' in norther Illinois. Here you can see the new steel walls we now include on every order as well as the pre-fabricated steel framed door.
---
Friday, July 4th, 2014
Greenville, TX.

We just finished this 18' x 24' greenhouse for our new friend Patel and his lovely wife. They had to rush to the hospital and deliver their new baby while we were there installing.
Congratulations Patel family on your newest member and we hope you all will enjoy having your new greenhouse to help provide fresh food for all. Thanks again !
---
Saturday, June 14th, 2014
Eckert, Colorado

We just built this great looking 18 x 32 for our new friend Doug out in Eckert, Colorado. Doug ordered it with 2' extra height on the side walls and had us install 4 windows and 4 French doors. We also added a rooftop vent for him for extra ventilation.
---
Monday, June 9th, 2014
Morrison, Colorado

We just finished this huge 18 x 60 for our buddy Rich and his terrific family, way up on top of an 8,000 foot mountain peak in Morrison Colorado. Rich ordered it with 2' extra height on the side walls and we added 2 vents for him and made the doors extra large for added circulation.
Rich, thanks again and thanks so much for the Elk Burgers. They were OUTSTANDING !!!! Maybe when we come back up there to build Tom's Greenhouse we can cook out again ! This time I'll buy the steaks !
---
Friday, July11th, 2014
Deer Creek, Oklahoma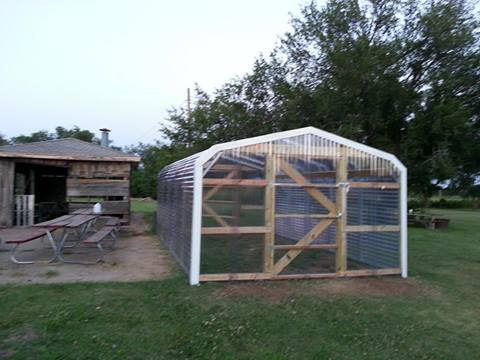 A couple of years ago we built a greenhouse for the Lamont Oklahoma school district. Nearby Deer Creek liked it so much they wanted one for their kids. So we built them this new 12' x 20' for the elementary school. Thanks again Connie for all your work getting the grant together and us on your schedule. Hope the kiddos learn a lot about gardening and learn just how much fun it can be. Thanks again !
---
Wednesday, June 4th, 2014
Copperas Cove, Texas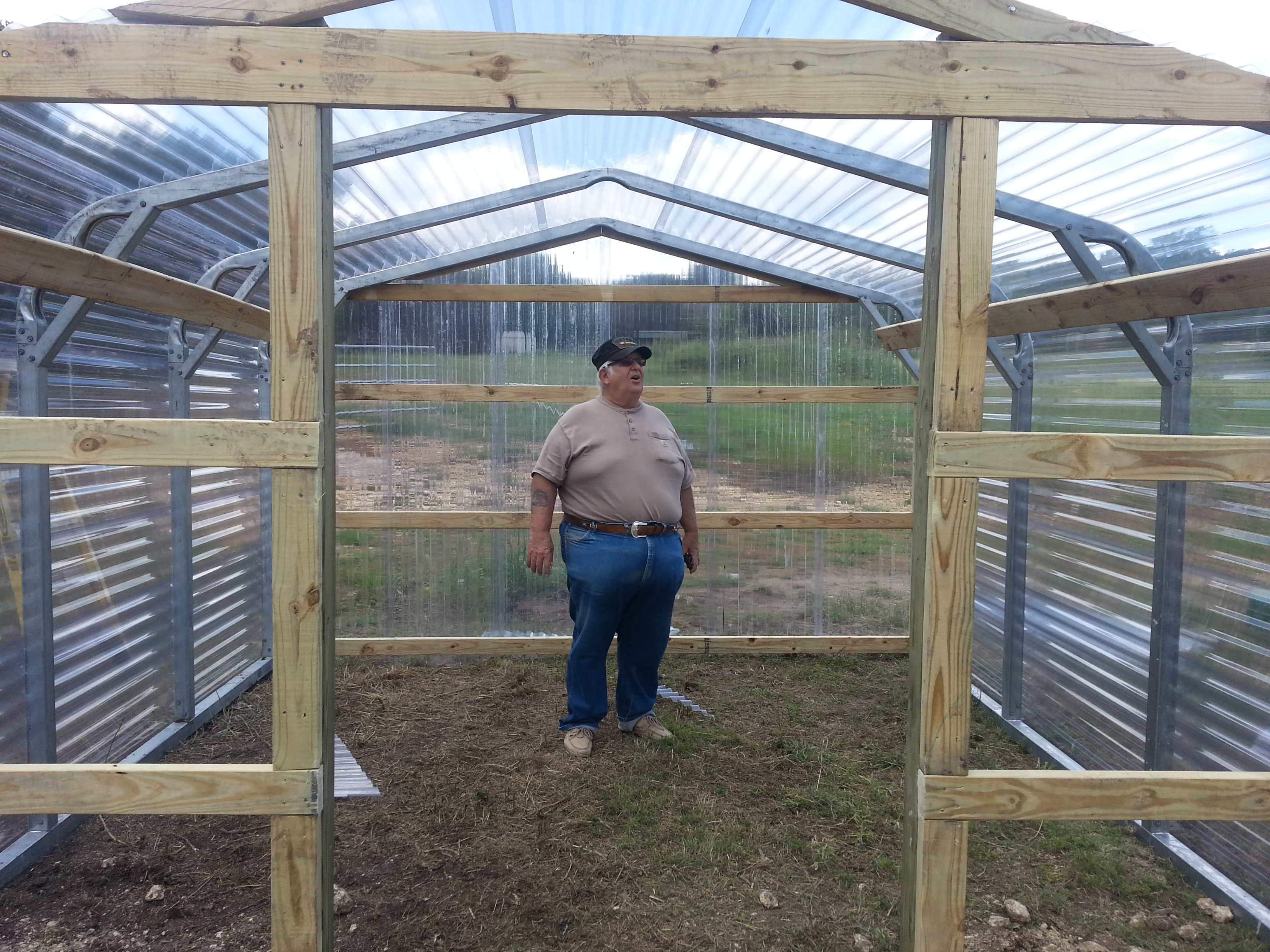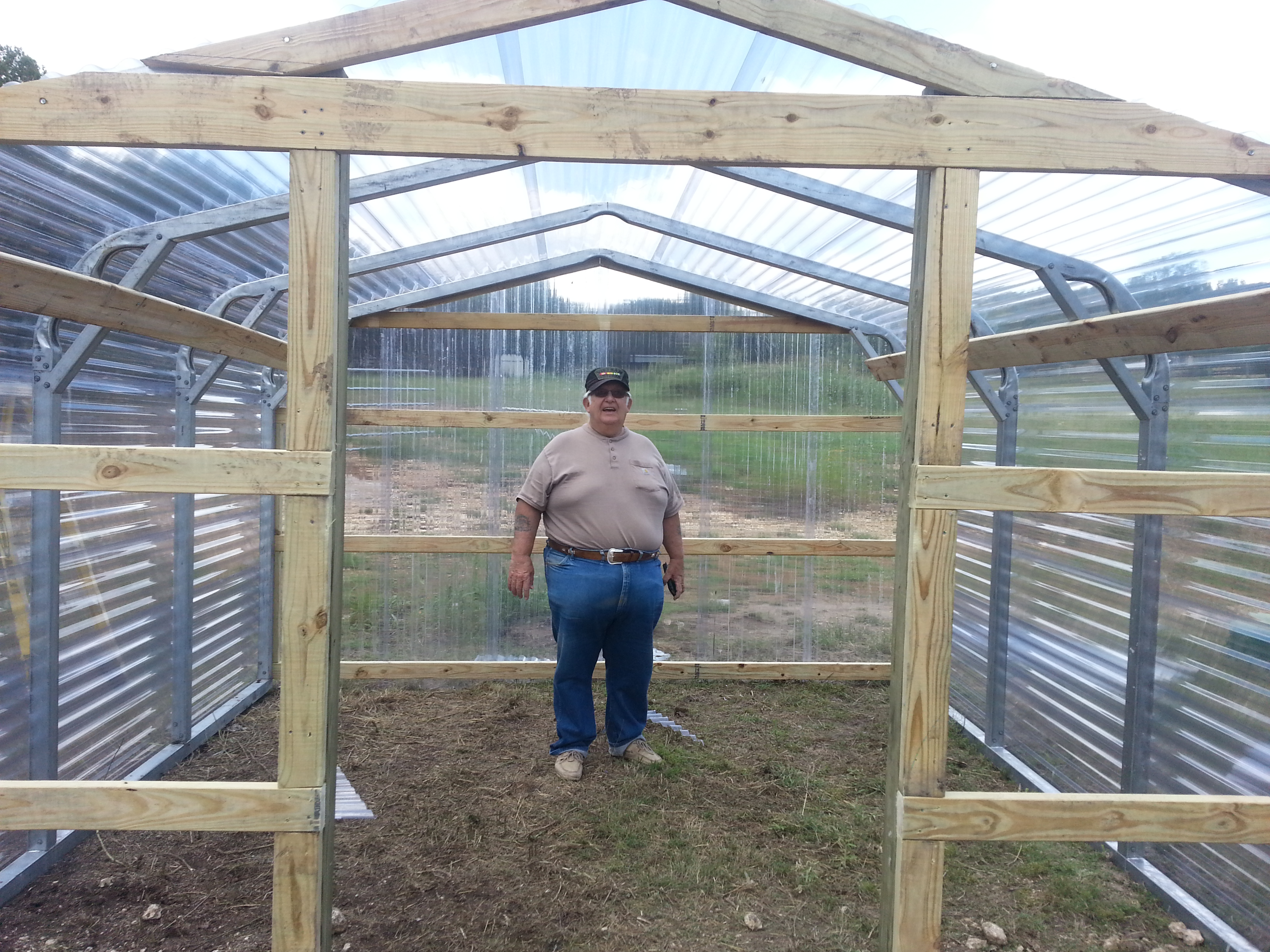 This is our friend Tom out inspecting his new greenhouse for the first time. We were not quite finished building it but Tom had to leave and wanted to see the progress before he left for the day. His wife wanted a place where she could grow her plants and one that was strong enough to withstand the high winds that destroyed the last 2 greenhouses they had. Tom we hope you enjoy this one and we promise the high winds won't be a problem this time.
---
Thursday, May 22nd, 2014
Holiday Weekend

Due to the Memorial day weekend and the holiday on Monday, the steel plant informed me that they will be closed. All deliveries will be pushed back a few days as we cannot get the steel frames until Tuesday.
---
Tuesday, May 20th, 2014
Denver Colorado

Here are a few pictures sent in by our buddy Jim up in Denver Colorado. Jim and his lovely wife Shelley wanted a place where they could grow plenty of vegetables for fresh eating and stocking up for winter by canning the extras. We finished building this one late at night in the rain but it was worth it for such nice people.
Jim I hope you and Shelley get many years of enjoyment from it and thanks again for everything !!!
---
Saturday, May 17th, 2014
Colorado Springs

We built this 12 x 16 Greenhouse for our newest friend Pete and his lovely wife. They chose a unique size that is perfect for the average homeowner. They ordered it with sidewalls 2' higher than the normal 6 feet. Plenty of room to grow even the tallest plants. He also had us install a 24" fan and 2 vents.
Thanks again Pete. It was a real pleasure working at your place with such a nice family.
---
Thursday, May 15th, 2014
Southern Colorado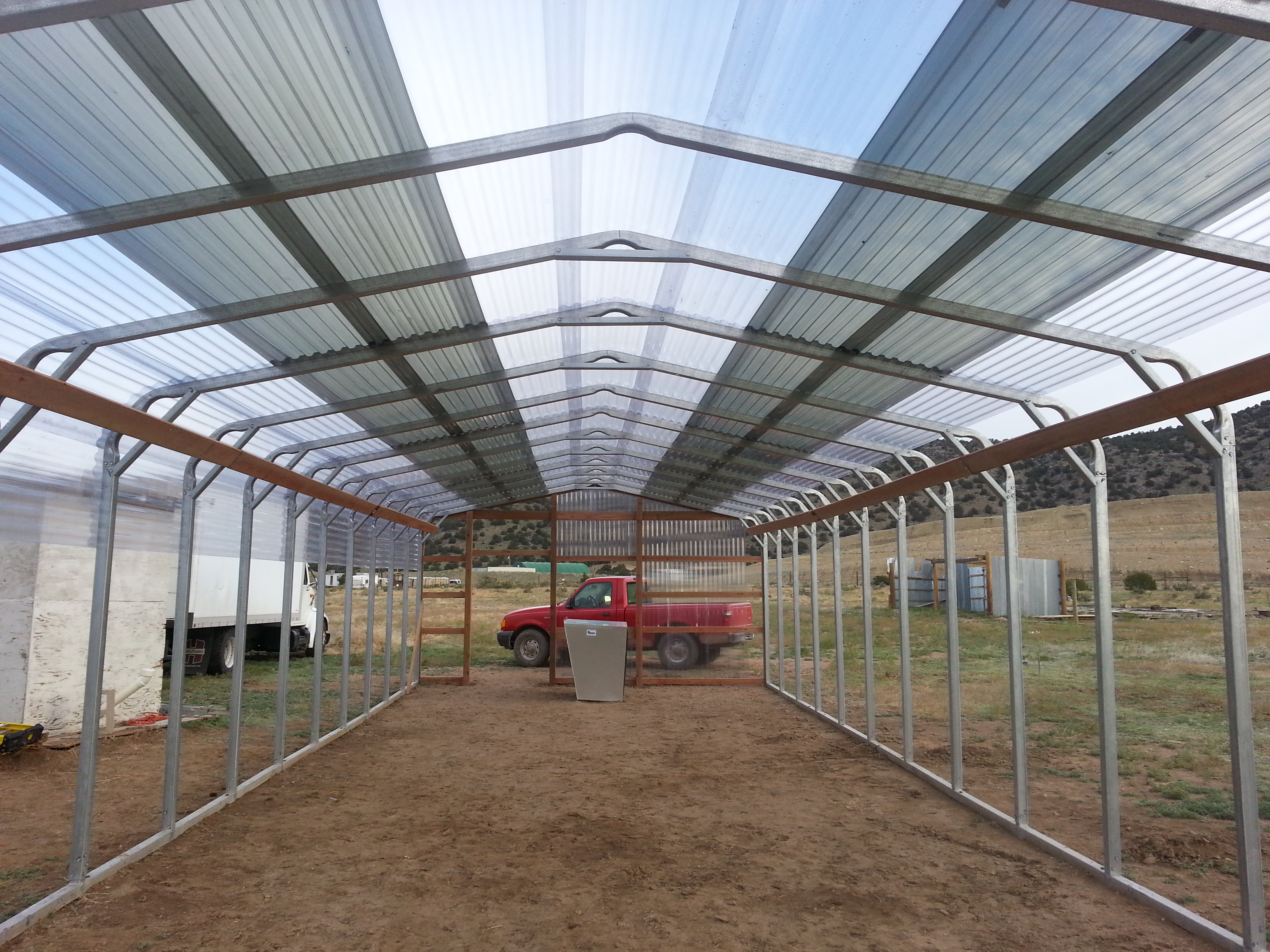 We delivered this 18 x 48 kit to our new friends in southern Colorado this week. We helped them get most of the frame set up and came back a couple of days later to check the progress on the plastic. It's coming along nicely and the guys should be done in another day or 2.
---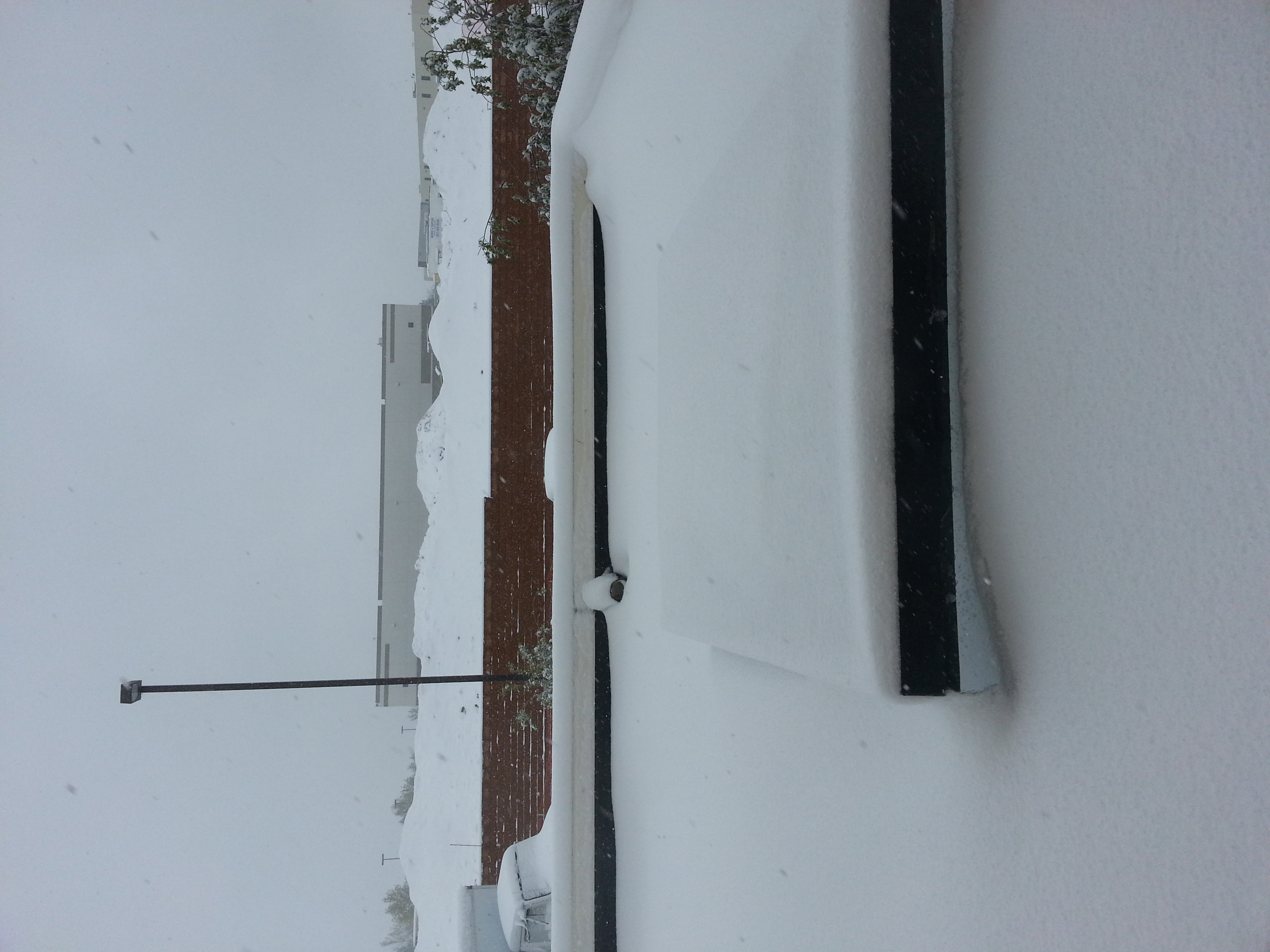 We are running a little later on deliveries as we have been snow in here in Denver for several days.
---
Wednesday, May 1st, 2014 :
McKinney, TX


Watch a video and see the inside: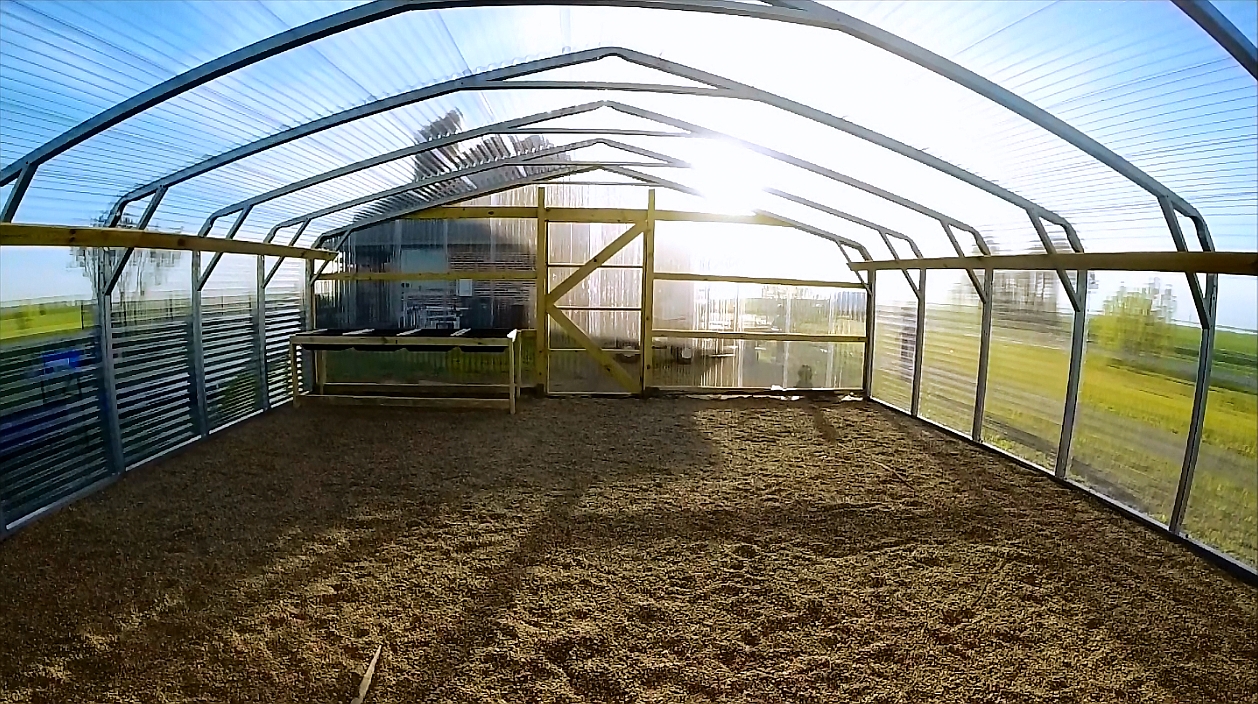 ---
Friday, March 14th, 2014:
El Reno, Oklahoma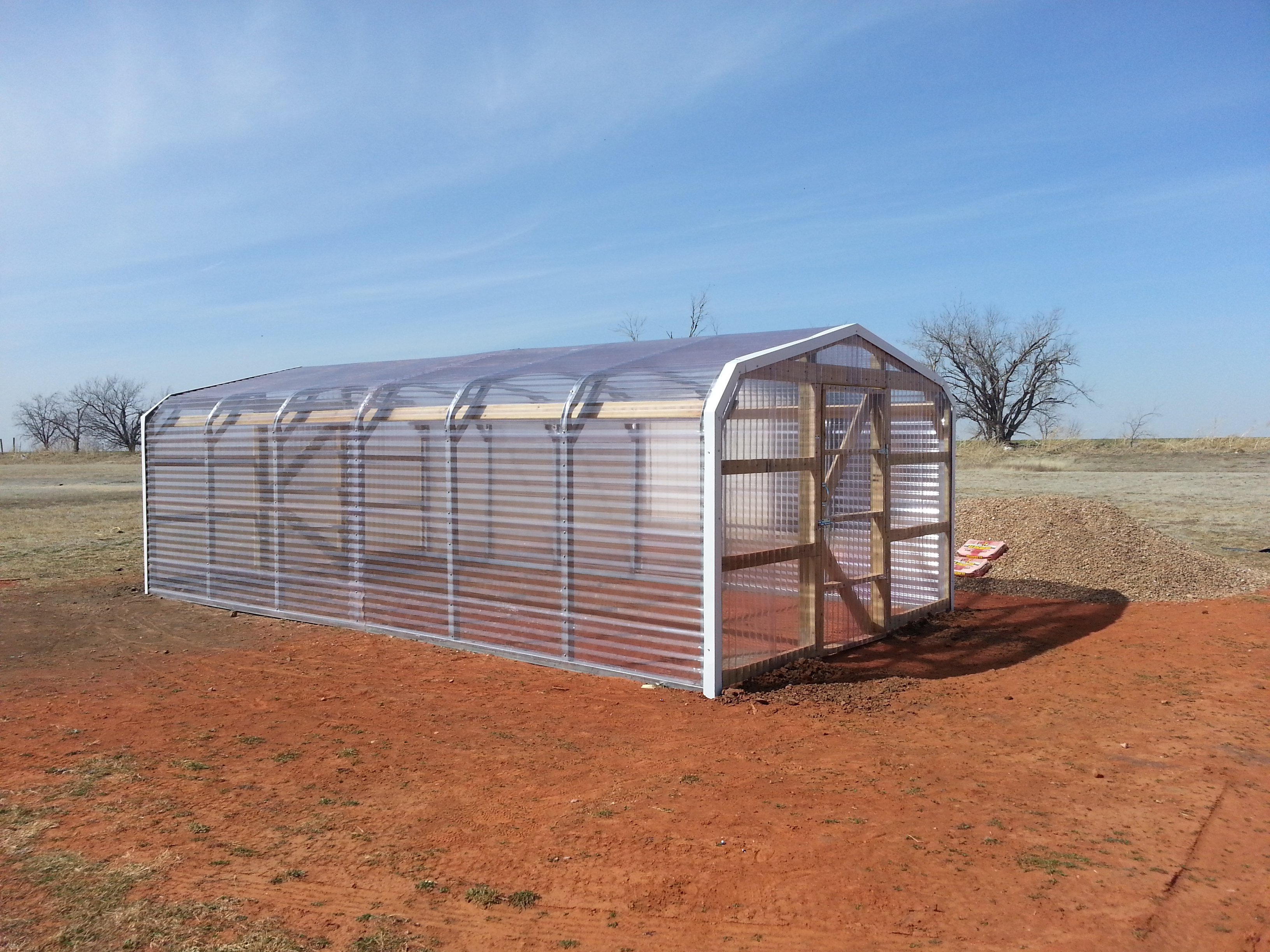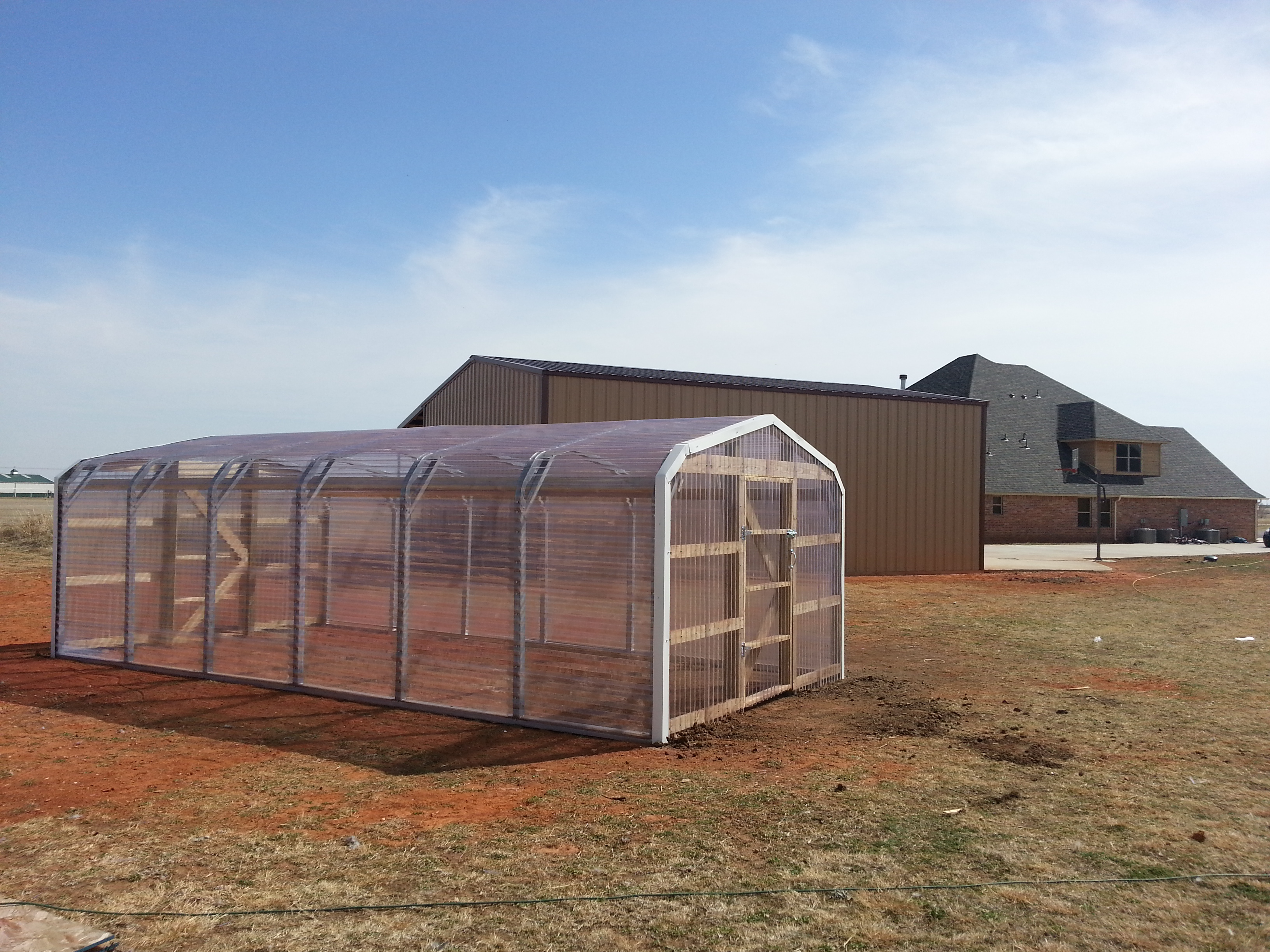 What a pleasure it was to install this new greenhouse for such a nice family. Melissa wanted a new greenhouse so she could provide healthy food for her family in this uncertain economy. She chose a 12 x 24 x 6 which is our most popular size for the average families needs. Thank you so much Melissa, it was a real pleasure meeting you !!! Please let us know if there is anything we can do to help you and the family in the future.
---
Friday, July 6th, 2012:
Colorado Kids Charity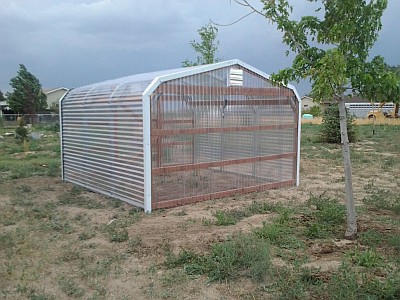 We installed this 12 x 12 just outside Denver for a Colorado kids charity that helps inner city kids come out to the country and learn skills they would otherwise never learn. We sure hope the kids get much enjoyment from their new Greenhouse. Deniese it was a real pleasure meeting both you and your husband. Please let us know if there is anything we can do to help you or the kids in the future. Also if you need a good home for that dog, you know who to call. LOL !
---
Wednesday, July 4th, 2012:
Colorado self- suffiency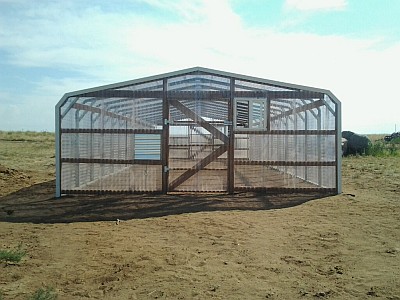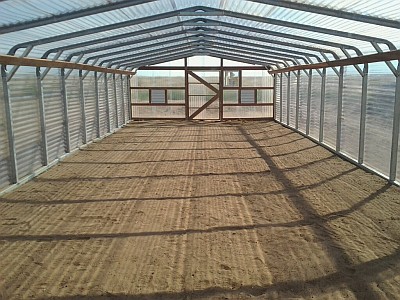 Our new friend Tedd just outside Colorado Springs was looking for a way to be more self sufficient and also for a way to make additional income, so he had us install this 18 x 48 outside his Colorado home. We installed 2 16" vents and 1 16" fan. He also wanted us to install some windows that he could leave open all of the time and not have any worries about critters getting into the Greenhouse. So we installed one on each end for him.
Thanks again Tedd and I cannot express enough what a pleasure it was to meet you. What a great guy !
---
Monday, June 11th, 2012:
Oklahoma Public Schools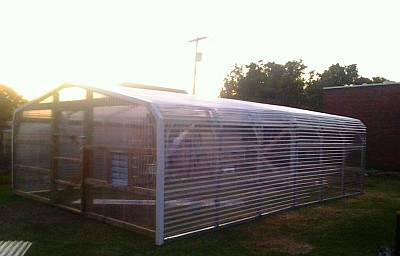 We recently installed this 18 x 24 Greenhouse for the kids in the Lamont Oklahoma Public School System. We sure hope the kids get much enjoyment and experience to last a lifetime out of this.
We can help your local school with a new Greenhouse too.
Thanks again Mike !
---
Tuesday, February 7th, 2012:
New Greenhouse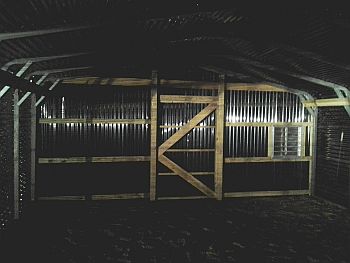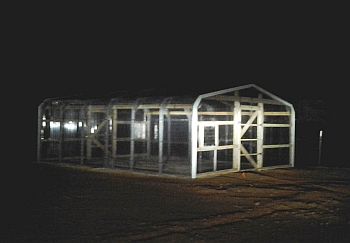 We just finished up a late night build for our newest friend Chris out in Tyler Texas. Chris has a great farm and Vineyard where he supplies breeding stock to other Vineyards throughout the country. He needed a sturdy place where he could keep his young vines and get them ready for planting. Chris we sure hope you like it and wish you continued success with your venture. You and your wife were great ! Thanks again : )
---
Saturday, May 14th, 2011:
3 Buildings delivered & installed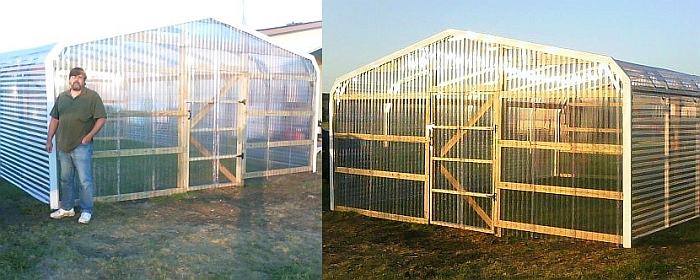 A BIG THANKS goes out to our friend Ray up in Celina TX.
Ray purchased this new 18' x 24' Greenhouse to start his Hydroponics system in. He also purchased a new 18' x 20' Steel Building to hold all of his farm items as well as a new 18' x 21' Barn for his goat shelter.
Thanks again Ray !!! We really appreciate you and be sure to send us some pictures of your new system after you get it up and running!
---
Saturday, April 2nd, 2011:
South Texas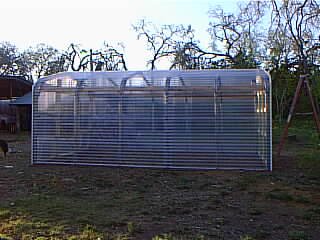 We built this 12 x 20 greenhouse on a pretty steep grade down in Bandera Texas yesterday. Our customer added 2 vents and a fan to keep her new Hydroponics system cool. Thanks again Teresa. It was a pleasure meeting you and be sure to send us some pics when you get everything growing. We can't wait to see them.

---
Friday, March 11th, 2011:
Take a look at our newest 12 x 12 residential model Greenhouse we completed today for Don & Lindsey in McKinney TX.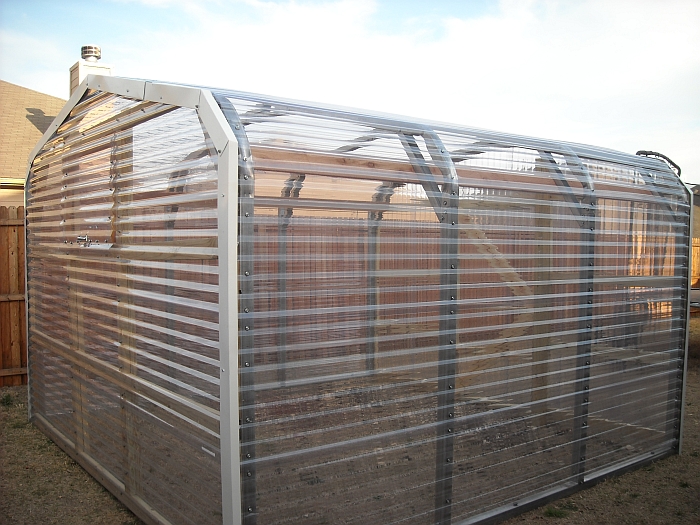 Notice the ventilation window we installed on the back of this one. Thanks a million. Hope all goes well with the new Aquaponics. Please let us know if we can help the Church in any way. God Bless !
---
Wednesday, March 9th, 2011:
12 x 20 Greenhouse completed.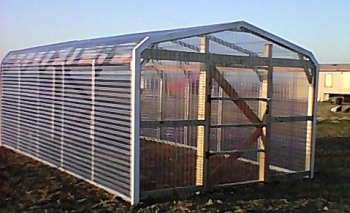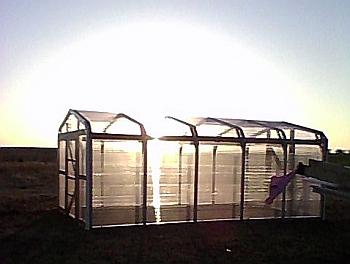 Here is another one of our 12 x 20 greenhouse we just installed for Mr. & Mrs. Kahler. Thanks again for your business. We appreciate you and and hope that you enjoy having it at your home : )
---
Friday, March 4th, 2011:
Another Big Greenhouse completed.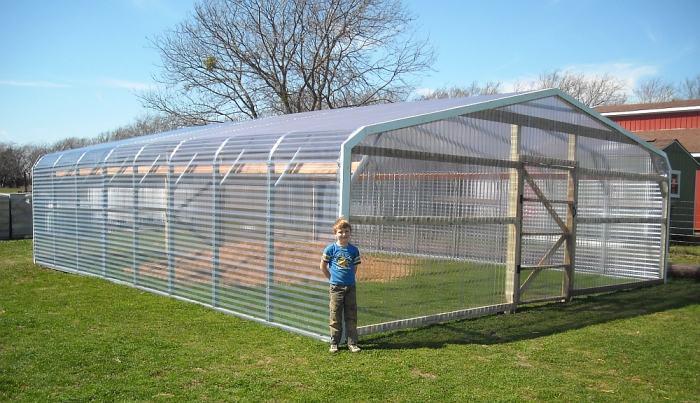 Here is a 24 x 32 greenhouse we just installed for Mr. & Mrs. Heil (and one of their many great kids "Caboose" - pictured). Thanks again and we hope you get many years of enjoyment from it : )
---
Wednesday, February 23rd, 2011:
Thanks Jeff !

This is one of our newly installed 12' x 20' Greenhouses. We can deliver and install yours in days.
Thank you Jeff. We really appreciate you!
---